The National Committee on North Korea
Online
May 28, 2020, 2:00 pm EDT to 3:00 pm EDT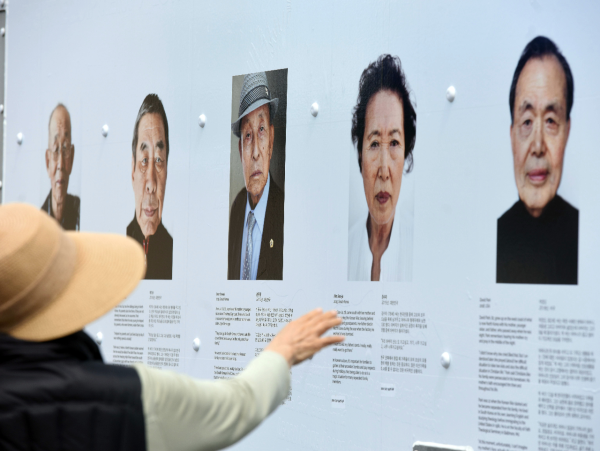 © Viorel Florescu – USA TODAY Network. Photo of a mobile exhibit of photographs of divided family members by Laura Elizabeth Pohl at the Fort Lee Public Library on May 11, 2018
One of most painful legacies of the division of the Korean Peninsula and the Korean War is the continued separation of thousands of elderly Korean-Americans from their relatives in North Korea. There have been limited opportunities for some members of this community to reunite with their family members in the DPRK after many decades apart. However, barriers to travel and communication, as well as the lack of a formal family reunion mechanism agreed upon by the U.S. and North Korean governments, have meant that most of these divided families have remained apart. NGOs and Korean-American divided family members have advocated for the U.S. government to raise this issue in negotiations with North Korea, and have had some success in putting the issue on the agenda of Congress and the Executive Branch. Nonetheless, amidst deadlocked U.S.-DPRK negotiations there has been little tangible progress on this issue, and - given the seven decades that have passed since the start of the Korean War - the window of opportunity for Korean-Americans with memories of their North Korean relatives to see them one last time is closing quickly.
Please join the National Committee on North Korea (NCNK) for a discussion on the status of Korean-American divided families as well as the outlook and challenges to U.S.-DPRK family reunions with Paul K. Lee, Chahee Lee Stanfield, and Dr. Katharine H.S. Moon.
Register here: https://us02web.zoom.us/webinar/register/WN_cHsHbjTkQBuyuH7lSxKf3A
Read the latest NCNK Issue Brief on U.S.-DPRK Divided Families, authored by Paul K. Lee, here.
Speakers
Paul K. Lee, President, Divided Families USA; Program Assistant for Youth Programs, United States Institute of Peace
Chahee Lee Stanfield, Korean-American Divided Family Member; Executive Director, National Coalition for the Divided Families
Dr. Katharine H.S. Moon, Edith Stix Wasserman Professor of Asian Studies, Professor of Political Science, Wellesley College; Nonresident Senior Fellow, Brookings Institution
View Original Invitation.